Are you looking for the best unicorn names to use in your writing project, such as a fantasy novel? Or maybe you are just curious about famous unicorns and their names?
Whatever reason you are here for, we have a growing list of more than 100 magical unicorn names for you to enjoy!
Boy or Girl Unicorn Names?
There is something you should know about unicorn names. In general, all names for unicorns are gender neutral. Therefore, we do not make separate lists for male and female unicorn names.
Some names on the list are male or female names in the human world. But in the unicorns' world, they are unisex names. There's no need to worry about whether a unicorn name you like is a "boy or girl name", because all unicorn names are fine for both!
If you want to know what your personal unicorn name is, check our unicorn name quiz!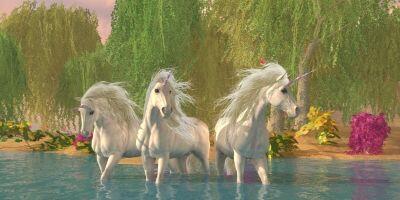 Unicorn Names Reflect the Unicorn Mythology
You probably connect unicorns with the rich mythology that surrounds them. Some of the famous unicorn name are more modern, while some sound as ancient as the unicorn myth itself.
There are some My Little Pony names on the list, such as Twilight. Then, there are ancient Greek names, for example Hippolyta and Hesperia.
Some of the most well-known unicorns in books and movies, such as the unicorns in the Harry Potter series, are left anonymous. However, there are many unicorns in popular culture and literature that do have individual names. So, we're going to reveal the famous unicorn characters behind some of the top names on our list.
Make Up Your Own Unicorn Name!
Do you want to create an original name for a unicorn character in your novel? Use your creativity and make up your own unicorn name!
To find inspiration for an original name for a unicorn, the best sources are flowers or stars. Unicorns are connected to nature and flowers, as well as stars. Many of the existing unicorn names are also names of flowers or stars.
Names of gemstones also make great names for unicorns. Many names on the list are names of gemstones, such as Amber, Crystal, Jade and Ruby. There are so many gemstones in the World. Do some research, and you might find the perfect jewel for a unicorn name!
Best Unicorn Names from A to Z
A
Amber
Amethyst
Andromeda
Arabella
Astra
Aurora
B
Bella
Blanca
Blossom
Bluebell
Bubbles
Buttercup
Buttercup is a stuffed white unicorn in the animated filmToy Story 3.
C
Candy
Calypso
Cassiopeia
Celeste
Charlie
This may not sound like a typical unicorn name. Charlie made it to our list, because it is the name of the main character on the viral animated videoCharlie the Unicorn.
Cherry
Chiara
Cinnamon
Clementine
Cloudberry
Cornelia
Cornflower
Crystal
Cupcake
D
Daffodil
Daisy
Dahlia
Dandelion
Delphine
E
Electra
Emerald
Esmeralda
Estrella
F
Faith
Fatima
Fern
Firefly
Fleur
Flora
G
H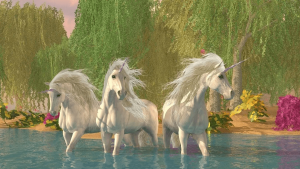 I
J
K
L
Lightfoot
Lightfoot is a unicorn character in Bruce Coville's young adult fantasy book Into the Land of the Unicorns.
M
Marigold
Meadow
Melody
Midnight
Milkyway
Moonflower
Moonheart
Moonheart is another unicorn character in the Bruce Coville's Unicorn Chronicles young adult fantasy book series.
N
Nico
Nico the unicorn is a character in a novel with the same name written by Franc Sacks. There is also a film version based on this book.
O
P
Pearl
Peppermint
Pink Diamond
Poppy
Primrose
Q
R
Raina
Rainbow
Rose
Rosemary
Ruby
S
Sapphire
Shimmer
Sparkles
Stardust
Starflower
Stargazer Lily
T
U
Uni
Uni the unicorn is a character in the animated series Dungeons and Dragons.
V
X
Y
Z