We have discussed some unicorns' living habits in previous posts. The question that just came to my mind is, how do unicorns sleep? Do unicorns sleep?
If you've been wondering about the same thing, you've come to the right place, because we´re going to find out about unicorns' sleeping habits!
Do Unicorns Sleep?
Unicorns are magical creatures, so maybe they don't magically need any sleep, right? After all, they don't need to eat, they get energy from the sun through their horns. Unicorns do like eating, though. Maybe the same applies to sleep, right?
That´s not quite the case. Unicorns do need to sleep. Their muscles don't need to rest, obviously; unicorns never get sore muscles, no matter how much they run. However, their magical minds do need to rest, so unicorns need to sleep like all animals. They don't need much sleep, though.
How Do Unicorns Sleep?
Unicorns prefer to sleep standing up. They do lie down at times, but only for a brief deep sleep session.
When unicorns lie down, that's when they´re usually dreaming. That´s the case with horses too; they normally sleep in a standing position and take brief deep sleep sessions lying down.
How Much Do Unicorns Sleep?
Unicorns don't sleep very much, only around 3 hours per day. It´s the same for horses, they don't sleep more than 3 hours a day, at least grown-up horses.
Where Do Unicorns Sleep?
Unicorns sleep in the place they call their home. Many unicorns spend most of their time in a forest, and that´s where they sleep too. Unicorns feel safe under the trees. Some unicorns sleep in caves. You need some shelter when you sleep, don't you?
It´s the same even for humans. You curl up under some sort of blanket when you sleep, don't you? That´s our sleeping cave, do you agree?
Even though unicorns are magical creatures, they don't like to feel too exposed while they sleep.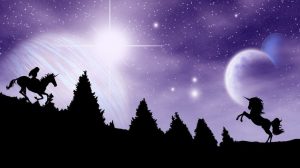 Do Unicorns Dream?
Unicorns do dream. As I mentioned, unicorns have most of their dreams while lying down.
Unicorns might dream about rainbows and tasty food. Just like humans, they may also dream about the things they have experienced during the day while they were awake.
Unicorns' Sleeping Habits Are Similar to How Horses Sleep
It seems unicorns' sleeping habits are similar to those of horses', which is logical, considering unicorns are similar to horses in many ways.
Unicorns need sleep to rest their magical minds
Unicorns only sleep 3 hours a day on average
Unicorns sleep in a standing position, but they lie down for brief deep sleep sessions
Unicorns prefer sleeping in a sheltered environment, such as a forest or a cave
Like other animals, unicorns dream while sleeping
What do you think about unicorns' sleeping habits? Please let me know in the comment section below.
I wish sweet unicorn dreams for all!