Inflatable Island In Philippines – Magic Trip for Unicorns
I just recently found out about an awesome place. It´s a unicorn lovers' paradise, and I just added it to my bucket list. That place is Inflatable Island in Philippines, a huge floating playground.
One of the attractions on Inflatable Island is Unicorn Island, a cute pastel-colored, unicorn-themed floating playground. Even better, they have a new attraction called Unicornzilla, a giant inflatable unicorn!
All images on this post are courtesies of Inflatable Island.
The Biggest Floating Playground in Asia
The Inflatable Island is situated in Subic Bay, Philippines. It is the biggest floating playground in Asia with 4200 square meters (more than 45 000 square feet). They also have another inflatable playground in Cebu, but the inflatable playground with the Unicornzilla and Unicorn Island is in Subic.
The Inflatable Island is 2,5 hour drive away from Manila, but you can also get there by seaplane in just 15 minutes.
A visit to Inflatable Island is quite affordable. A full-day pass costs around $16, and it´s even cheaper if you book your ticket in advance on Inflatable Island´s website.
Some of the obstacle courses on Inflatable Island are actually quite challenging. You are required to wear a life vest because the water is quite deep.
Children need to be at least 3 ft (90 cm) tall to enter Inflatable Island. There needs to be one adult supervisor per each 3 to 4 ft (90 to 120 cm) tall child.
On Inflatable Island, there are swings, slides, monkey bars, bridges, a Tarzan swing, and other activities. The park has been around since 2017, but in 2019, new attractions were added. These include Unicornzilla, Sunflower lounge, and Vortex, a new obstacle course.
The Vortex – A New Attraction for Adrenaline Junkies
If you are an adrenaline junkie, on top of the unicorns, you might enjoy Vortex. It´s an attraction that was just added to Inflatable Island in 2019.
On Vortex, you can find a 30 ft (9 meters) long diagonal tunnel to climb in. Even in Vortex, a unicorn fan can spot a familiar shape. Doesn't the diagonal tunnel look just like a unicorn horn turned upside down?
When you get to the top, you have 3 different slides to choose from. You can slide 30 feet into the water, plunge into a diving hole, or try the exciting half slide. First, you swoop down and then up a ramp before dropping in the water.
Have Pastel Colored Fun on Unicorn Island
Unicorn Island is as good as it sounds. It´s a floating unicorn island. Unicorn Island is full of cuteness, rainbows, and pastel colors! Of course, there is also a cute big unicorn, Baba, sitting in the middle of the Unicorn Island (not as big as Unicornzilla, though).
On the back of the unicorn Baba, there is Baba´s super slide, which is a big slide, as the name suggests. You can also enjoy a cute sea unicorn with a climbing wall, a rainbow bridge, and a human launcher.
In the Floating Zoo, you get to chill out on unicorns and flamingo floats. Unicorns are all around Inflatable Island! Even in the middle of the main area of the floating playground, apart from the Unicorn Island, there is a unicorn trampoline. But the biggest star of Inflatable Island is a new attraction, Unicornzilla.
Meet Unicornzilla, The Biggest Floating Unicorn in the World
In 2019, Inflatable Island launched a new attraction, Unicornzilla. At 50 ft or 15 meters, it´s the biggest floating unicorn in the world!
The name Unicornzilla might sound a bit scary, but this floating giant is a real cutie with a round body and a rainbow-colored mane, tail, and horn.
On top of Unicornzilla, there is a pool that can hold 25 people. The tail of Unicornzilla is a slide that takes you back down to water hastily. But first, you need to climb on top of Unicornzilla. As huge as Unicornzilla is, it can be quite a challenge. I´m sure it´s worth the effort, though.
Pink and Yellow Bean Bags and Sunflower Lounge
You might get tired from all the jumping, climbing, and sliding on Inflatable Island. On the beach facing the Inflatable Island, you find places to relax in, and even they are quite cute and pastel-colored.
Sunflower Lounge is a new lounging area, which was set up in 2019. Sunflower Lounge is all yellow, and it´s full of large sunflowers that double as sunshades. You can rent a sunbed in Sunflower Lounge for a whole day.
Another option for a chill-out spot with a sea view is the Bali Lounge. In Bali Lounge, you can relax in a pink or yellow bean bag under a sunshade of the same color. I´d love to hang out on a pink bean bag, after all the cute and pink unicorn fun on Inflatable Island!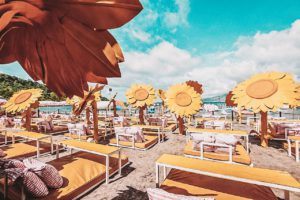 If You Love Unicorns and Water, Inflatable Island in Philippines Is Your Dream Come True
The Philippines is far away from Europe and United States, but Inflatable Island makes me want to save money for a plane ticket to Manila.
Inflatable Island is quite an affordable attraction. In general, everything is much cheaper in South East Asia compared to Europe and the United States, so that is not surprising. A day pass to Inflatable Island only costs around $16 and even less if you book your ticket in advance.
On Inflatable Island, you get to have fun with swings, slides, monkey bars, Tarzan slides, trampolines, and other activities. The new attraction Vortex is guaranteed to boost your adrenaline level.
For unicorn fans, Inflatable Island is a paradise. Unicorn Island is filled with pastel colors, rainbows, and cuteness. A big cute unicorn is sitting in the middle of Unicorn Island, and you get to plunge down a slide on its back. There are other activities too, such as a sea unicorn with a climbing wall.
Unicornzilla is a new attraction on Inflatable Island, and it will make a unicorn fan squeal with excitement! Unicornzilla is the biggest floating unicorn in the world. It´s 50 ft (15 meters) tall, and you can climb on it and slide down its rainbow-colored tail.
Even the relaxing areas on the beach are super cute and pastel-colored. The new Sunflower Lounge has big sunflowers to offer shade, and yellow day beds you can rent for a whole day. Bali lounge has pink and yellow bean bags and sunshades.
If you love unicorns and water, Inflatable Island in Philippines is your dream come true. I do love both unicorns and water. I love swimming, and I also love swings and slides. Inflatable Island has been added to my bucket list!
Find more information on Inflatable Island on their website.
Read more unicorn travel tips here.
Have you visited Inflatable island in the Philippines, or would you like to visit it? Let me know in the comment section below!