For us, humans, and most other animals, drinking water and keeping hydrated is necessary for survival. How about magical creatures? What do unicorns drink?  Do unicorns drink?
You might have a mental image of a gracious unicorn bowing its head to drink from a fresh fountain. Or maybe you dream of a unicorn attending your tea party and sipping tea from a cup?
Do Unicorns Need to Drink Water?
Unicorns do not need to eat to survive. They do eat because they like to, though.
Drinking water is a different thing. Even plants need water, even though they get their energy from sunlight, just like unicorns. Unicorns are not plants, of course! But they also need water. That is not something they can magically create in their bodies.
What Do Unicorns Drink?
Unicorns drink water, mostly. Beautiful, pure spring water. To unicorns, nothing tastes better than water from a waterfall!
Of course, any water unicorns drink tastes even better than it normally would. That is because they touch the water with their magical horn, as they bow to drink. Unicorn horns purify water, so they automatically purify the water they drink.
Each unicorn has a little different magic, so water purified by a unicorn tastes a bit different depending on the unicorn who purified it.
Do Unicorns Drink Tea or Coffee?
Some unicorns are known to drink tea occasionally. However, unicorns do not drink coffee.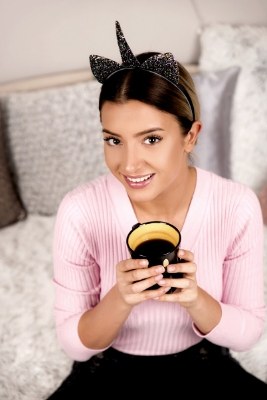 Unicorns do not need caffeine to boost their energy. They are magical and sparkling enough without caffeine.
Unicorns definitely do not drink cola drinks or any soda either. It is pointless to even give them any juice; unicorns prefer to eat their fruits instead of drinking them.
Do Unicorns Drink Any Alcohol?
No unicorn in the world drinks any alcoholic drinks. Alcohol would mess up with their magic.
You might have heard people in the old days used to drink wine from unicorn horns. Well, of course, these "unicorn horns" were mostly narwhal tusks. But there is no way a unicorn would ever drink wine.
A Conclusion
I hope you have a better idea now of what unicorns drink. Unicorns do need water to survive. Water is the drink unicorns mostly drink. They enjoy fresh spring water.
Unicorns purify water with their horn, so the water becomes even more refreshing when a unicorn touches it with its magical horn.
Unicorns don't drink coffee, alcohol, or soda drinks. They don't even like juice, because they prefer to eat their fruits instead of drinking them.
So, water, and possibly tea, are the go-to drinks for unicorns.
Did any of the unicorns' drinking habits surprise you? Would you like a unicorn to visit your tea party? Please let me know in the comment section below.