For us humans, and most other animals, drinking water and keeping hydrated is necessary for survival. How about magical creatures? What do unicorns drink? Do unicorns drink?
You might have a mental image of a gracious unicorn bowing its head to drink from a fresh fountain. Or maybe you dream of a unicorn attending your tea party and sipping tea from a cup?
To find out the truth about unicorns' drinking habits, we are going to interview our friend Hippolyta the unicorn.
Hippolyta, Do Unicorns Need to Drink Water?
I can see your point with the question. After all, us unicorns do not need to eat to survive. We do eat because we like to, though.

Drinking water is a different thing. Even plants need water, even though they get their energy from sunlight, just like us unicorns. Well, unicorns are not plants, of course! But we also need water. That is not something we can magically create in our bodies.
What Do Unicorns Drink? Water?
Yes, we drink water, mostly. Beautiful, pure spring water. Nothing tastes better than water from a waterfall!

Of course, any water unicorns drink tastes even better than it normally would. That is because we touch the water with our magical horn, as we bow to drink. Unicorn horn purifies water, so we automatically purify the water we drink.

Each unicorn has a little different magic, so water purified by a unicorn tastes a bit different depending on the unicorn who purified it. My sister's horn leaves a very clean taste to water, it tastes like summer rain. When my horn touches the water, the water tastes a little sweet after.
There Are People Who Dream About Throwing a Unicorn Tea Party. Do Unicorns Drink Tea?
Indeed, I must admit I have tasted tea many times. The first time was long ago, when I got to know a noble princess who served me some tea and cake. At the time, all tea in Scotland and England was black tea from India. I did not fancy the taste of the tea, and only ate the cake.

Now, I have a human friend, Claire, who works at a bakery. She often brings me cupcakes and other sweets. She also brought me some green tea to taste. I immediately liked the green tea! It has a unicorn-friendly taste. These days I am very fond of green tea, and I drink it occasionally with chocolate cupcakes, when Claire brings them to me.

Unfortunately, unicorns do not have kettles or other tea making tools, and I wonder if I could even make tea with my hooves. So, I only drink tea when my human friend visits me and brings me some.

But it might not be easy to get a unicorn to join your tea party, even if the unicorn likes tea. Unicorns do not often associate with humans. It takes time to earn a unicorn's trust and friendship.
So, You Like Green Tea, Hippolyta. I Suppose Unicorns Don't Drink Coffee, Though?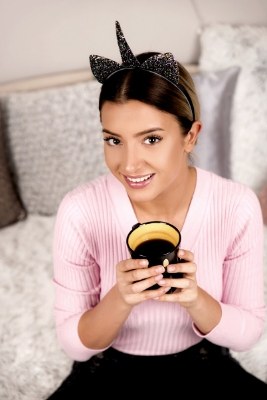 Absolutely not! Us unicorns do not need caffeine to boost our energy. We are magical and sparkling enough without caffeine.

We definitely do not drink cola drinks or any soda either. It is pointless to even give us any juice; we prefer to eat our fruits instead of drinking them.
I Guess Unicorns Don't Drink Any Alcohol?
Holy unicorn! No unicorn in the world drinks any alcoholic drinks. Alcohol would mess up with our magic.

You might have heard people in the old days used to drink wine from unicorn horns. Well, of course these "unicorn horns" were mostly narwhal tusks. Anyway, there is no way a unicorn would ever drink wine.
Thank You for the Interview, Hippolyta.
I hope you have a better idea now what do unicorns drink. As Hippolyta the unicorn explained, unicorns do need water to survive. Water is the drink unicorns mostly drink. They enjoy fresh spring water.
Unicorns purify water with their horn, so the water becomes even more refreshing, when a unicorn touches it with its magical horn.
Hippolyta told us she is fond of green tea. However, you might have a hard time getting a unicorn to join your tea party. It takes time to build a relationship with a unicorn. Usually unicorns shy away from humans.
Unicorns don't drink coffee, alcohol or soda drinks. They don't even like juice, because they prefer to eat their fruits instead of drinking them.
So, fresh water, and possibly tea, are the go-to drinks for unicorns.
Remember to read our post on unicorns' diet, if you haven't already.
Did any of the unicorns' drinking habits surprise you? Would you like a unicorn to visit your tea party? Please let me know in the comment section below.