Happy National Unicorn Day! April 9th is the National Unicorn Day, which gives us a good reason to spend all day with sunshine, unicorns and rainbows. But how to celebrate National Unicorn Day? Check our list of 7 ways to celebrate this special day.
All the activities we are suggesting can be done at home or in the surrounding nature. As we all know, this is a time when we need to come up with things to do at home. But no worries, because there are many fun unicorn activities you can enjoy without leaving your house!
Disclosure: This post includes affiliate links. If you click on these links and purchase a product, I receive a small commission, which will help me maintain this website. There are no additional costs to you, if you make a purchase on my affiliate links. I only promote products I personally recommend. I have personal experience with them, or I have done research on them. Thank you for your support.
What Is National Unicorn Day?
Actually, the National Unicorn Day should be called "International Unicorn Day", because this magical holiday is celebrated around the world. National Unicorn Day is celebrated on April 9th every year. It is a special day to celebrate unicorns and the unicorn mythology that has been part of our culture for thousands of years.
In Scotland, the National Unicorn Day is more important than anywhere else. Unicorn is the national animal of Scotland, and the National Unicorn Day was celebrated in Scotland in the first place. That's why it's called "National Unicorn Day".
7 Ways to Celebrate National Unicorn Day
Even if you don't live in Scotland, you can celebrate the National Unicorn Day at your own home. These are our top activities to do on National Unicorn Day. You can enjoy them with your family, your partner or even on your own.
1. Wear a Unicorn Headband.
That brings us to my first tip, which is to wear a unicorn headband. If there's one day of the year that is perfect for wearing a unicorn headband, that's National Unicorn Day!
If you're crafty, you can make a unicorn headband yourself. We have a tutorial for making a Halloween unicorn headband. Change the colors of the materials, and this DIY headband is perfect for any occasion.
In case you're not into crafting, you can also get a unicorn headband here.
2. Bake a Unicorn Cake or Unicorn Cupcakes.
Unicorns love sweets, so of course you want some sweet treats on National Unicorn Day, right? 🙂 To match the unicorn theme, bake a yummy unicorn cake or unicorn cupcakes. Unicorns love them too.
If you want to give it your all, try baking a stunning unicorn cake like in this super popular YouTube video.
3. Make Unicorn Crafts.
If you're a crafty unicorn, National Unicorn day is the perfect day to work on a unicorn DIY project.
Easter is just around the corner, so why don't you try making a super easy and fun unicorn Easter egg?
4. Play Unicorn Games.
Playing a unicorn board game is a fun unicorn activity you can do at home. The most popular unicorn board game at the moment is Monopoly Unicorns vs. Llamas. Instead of buying properties, in the unicorn and llama version of Monopoly you compete for which animal is cuter.
5. Do Unicorn Yoga.
Unicorn yoga is like regular yoga, except for more magical. Unicorn yoga poses have names like "tail to the sky" and "unicorn warrior". I got the unicorn yoga card game on Unicorn Dream Box, and it's a lot of fun. At home yoga is a perfect exercise at these unusual times, and unicorn version of yoga is even more fun than regular yoga.
Doing some unicorn yoga on National Unicorn Day is a great way to connect with the spiritual side of unicorns. You can get the unicorn yoga activity set here.
6. Walk in a Forest.
You can't get in touch with your inner unicorn without connecting with nature. If there's a forest nearby, take a nice long walk in the forest. Forest is a good place to avoid people (unless everyone else have thought of the same thing at the same time) and to spot unicorns. If you're feeling adventurous, you can even go for a walk with your unicorn headband on.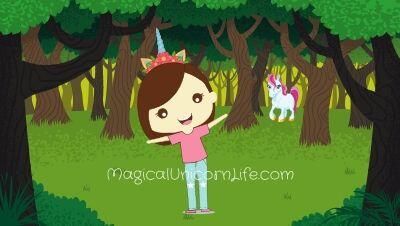 7. Watch a Unicorn Movie.
Watching a unicorn themed movie is a relaxing way to end a day full of unicorn activities. My recommendation is Unicorn Store Movie.
Have a Magical Unicorn Day!
I hope you got some ideas for how to celebrate National Unicorn Day. The National Unicorn Day is only once a year, but remember; every day can be a unicorn day!
Are you planning to celebrate the National Unicorn Day? If the answer is yes, what are you going to do? Please let me know about your National Unicorn Day activities in the comment section below. Have a magical National Unicorn Day!