Everyone seems to be talking about slothicorns these days. What is a slothicorn, exactly? We are going to find out all about it!
What Is a Slothicorn?
Slothicorn is a hybrid of a unicorn and a sloth. It resembles more a sloth than a unicorn, though. The slothicorn looks like a sloth with a unicorn horn. A horn on the forehead is the only physical part of the slothicorn that is adopted from the unicorns.
Just like unicorns, slothicorns are magical creatures. Slothicorns are able to use their horns for healing sickness and purifying water, the same way as unicorns.
Unicorns are able to grant wishes, and so are slothicorns.
However, slothicorns are not fast like unicorns. Slothicorns are just as slow as their non-magical cousins, sloths.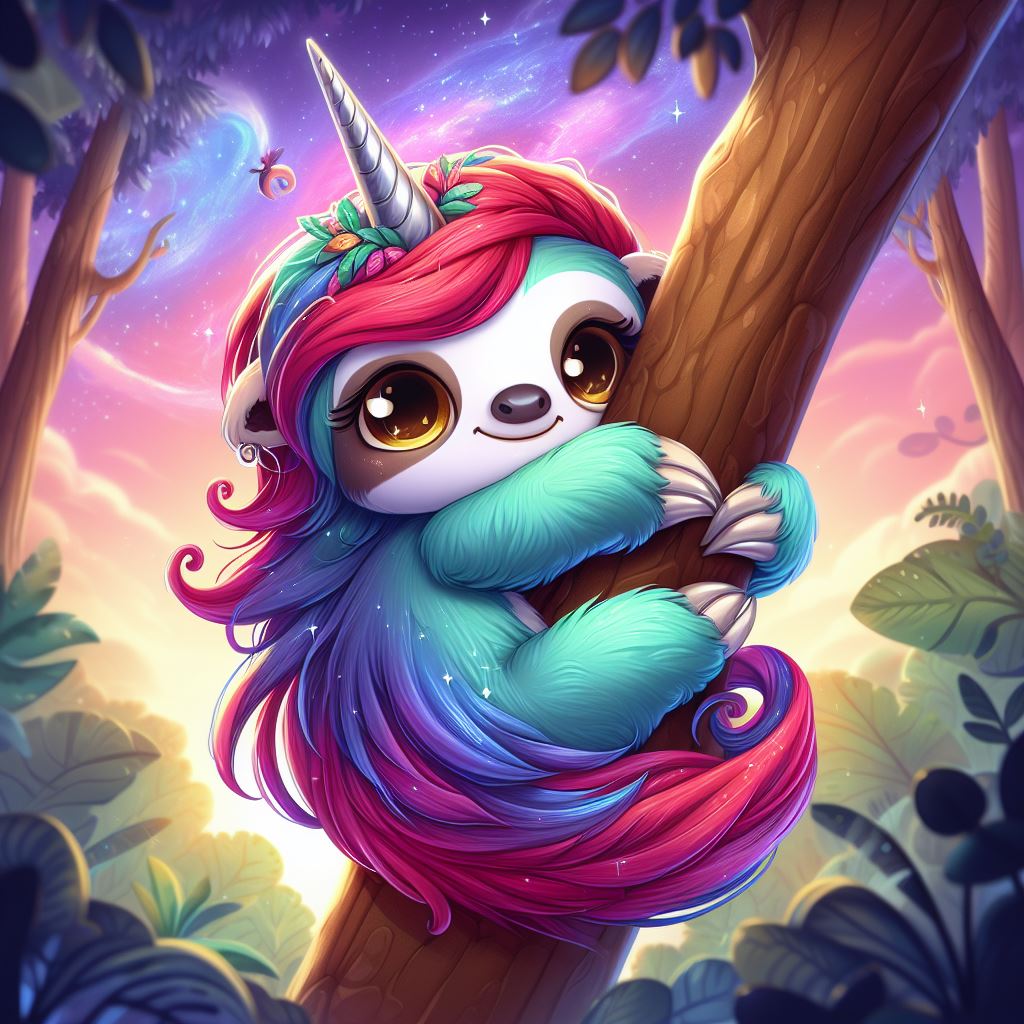 A cute unicorn picture of a young slothicorn holding on to a tree in a magical jungle. 
How Is a Slothicorn Born?
So, how is the mysterious slothicorn born? Does a unicorn meet a sloth and… I don't think we even want to think about what would happen next!
Don't worry. Slothicorns are not born that way.
Slothicorns are born, when both unicorns and sloths reach a certain level of popularity. The popularity of unicorns and sloths together with the magic of unicorns produces a slothicorn.
It has not been accurately measured, what is the necessary amount of popularity to produce a slothicorn. However, recently both animals, the unicorn and the sloth, seem to have reached this point. As a result, the new species, slothicorn, is born.

Where Do Slothicorns Live?
Like their non-magical relatives sloths, slothicorns live in South America and Central America. Sloths spend almost all of their time hanging on trees, and so do slothicorns.
Unicorns love running in a forest, but slothicorns are the opposite. They just hang on trees and move only when necessary. Their living habits are very similar to sloths, which can not even walk.
Sloths are able to swim, though, and so are slothicorns. Slothicorns actually enjoy swimming. This is convenient for all the animals that live in or drink from the river slothicorns swim in. That's because slothicorns purify the water of the river with their magical horns.
What Do Slothicorns Eat?
Slothicorns have the same diet as sloths; leaves of trees. They don't get much energy from these leaves.
It is uncertain, how a slothicorn is able to remain magical with such a low calorie diet. According to a common theory, this is only possible through magic.
Do Slothicorns Sleep All the Time?
No. Even sloths don't sleep all the time. Sloths sleep up to 10 hours a day. Only in captivity they sleep 15 to 20 hours a day, apparently because they're bored.
There are no captive slothicorns, and wild slothicorns don't sleep more than 10 hours a day. However, slothicorns do spend most of their time motionless hanging from trees.
What Is a Slothicorn? – A Magical Hybrid
Now you hopefully have a better idea what slothicorn is. This magical hybrid combines the magical powers of unicorns and the laid-back lifestyle of sloths.
You might also like our post on the llamacorn, another magical unicorn hybrid.
What do you think about the slothicorn? Please share your thoughts in the comment section below.